HISTORY OF PURE LUCK
In 1979, Sara Sweetser bought eleven acres and an old homestead on Barton Creek to raise her daughters, Gitana and Amelia, then four and two years old.  At the time, no one was farming the large, sloping pasture fronting fertile Barton Creek, but the land had been a working tomato farm in the 1930's.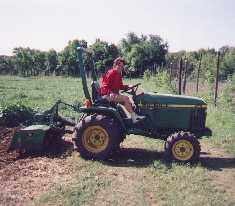 Sara's appreciation of "well-tilled soil" (like a Hobbit!) led to a productive vegetable garden. While taking care of a friend's goats, Sara fell in love. Her affection for animals resulted in pets in the form of dogs, cats, birds, and a small herd of dairy goats. Another friend's beautiful cheeses inspired her to make her own. The goat milk, vegetables from her gardens, and cheese were just the kind of quality food she wanted for her family.
In 1983, Sara met Denny Bolton, who was working at a local plant nursery.  They fell in love, got married a year later, and had two more daughters, Claire and Hope.  Denny is a third-generation nursery person, a landscaper, a writer, and an organic gardener.  It seemed only natural that they would find a way to work together in business as well as love. Even better – all four girls grew up working the soil and milking goats!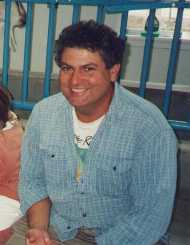 Putting their heads together in 1988, Sara and Denny were one of the first farms in Texas to file the paperwork to be recognized by the Texas Department of Agriculture (TDA) as a "Certified Organic Farm." Sara came up with the farm name, saying that it was Pure Luck that it worked!
The first crop Pure Luck grew for sale was cucumbers.  In the early 1990s, Sara and Gitana grew about half an acre of them.  There were cukes everywhere – Whole Foods Market appreciated the fact that the cucumbers were organic and from Texas, and was willing to be a buyer.
Pure Luck soon began growing fresh cut, organically grown culinary herbs. Sometime in 1990, Sara and Denny added organically grown cut flowers to the farm.  By 1996, cut flowers had become no less than half of the business.
The batches of cheese that Sara made for family and friends were so well received that in 1995, she made the major decision to start a Grade A Goat Dairy. Since then, Pure Luck's dedication to quality and the family's love for the goats have resulted in several national cheese honors.
These days, both cheesemaking and organic farming are alive and thriving at Pure Luck. Delicious and highly respected cheeses are top priority at the cheese plant, while the goats are cared for with kindness and joy. Back on that sloping, fertile field, rows and rows of herbs – interspersed with a stand of flowers or a patch of melons – are soaking up the Texas sun and waiting to be weeded…
Today, Pure Luck splits it's love right down the middle – digging in the dirt and scooping curd.
WHO WE ARE

SARA
Sara Bolton who did so much to build the farm, has passed on. She loved her land, raising girls, plants, and goats there. Before her passing, Pure Luck was incorporated and is now Pure Luck Dairy, Inc. Amelia serves as President, and Gitana as Vice President. So, rest assured, Pure Luck does, and will continue. More info can be had on Sara Bolton, the heart & soul of Pure Luck, on her page In Memory of Sara.
AMELIA
Amelia and her husband Ben live at the farm and are at the heart of its modern day success. Amelia grew up on the farm, meanwhile learning to appreciate the value of the land, the goats, the work, and her home. When Sara asked her to come make cheese with her in 1997, Amelia was ready. Before long, she not only became a capable cheesemaker, but she excelled at it! She now runs all of the cheeseplant operations, manages the herd, and makes award winning cheeses! Amelia is amazingly accomplished and down-to-earth. She maintains the high standards set by her mother, Sara, and is willing to move Pure Luck into the future!
BEN
Ben and Amelia met in highschool and have been friends ever since. They fell in love and then married in the Spring of 2007. Luckily, Ben knew he was marrying into Pure Luck also… Ben works full time for Pure Luck making deliveries, organizing the office, managing Pure Luck's website, and fixing anything and everything on or around the farm. He is on call all the time, and can be found doing whatever he must, including fixing the internet connection, buying feed, helping to lay row cover, or birthing a baby goat.
CLAIRE
Claire and Hope are the entrepreneurs who got the farmstand going by selling rocks (they were very cute and persuasive little girls), eggs, and leftover flowers to folks passing by on the county road. They did such a good job, Sara and Denny realized that a farmstand was a good idea! Claire kept a connection with her customers, and 15 years later could often be found selling cheese and flowers with Denny at the Farmer's Market. Claire inherited Sara's high standards and sense of quality. She brings her skills to the cheeseplant and easily works with Amelia making stellar cheese.
HOPE
Hope has always been a ray of sunshine on the farm. She was born in her own bedroom right in the middle of Pure Luck. Hope literally grew up cutting herbs and flowers and milking goats. She gives the best tours and still knows the goats better than anyone else. Hope ran the farmstand with Gitana, and then with Amelia, for several years – always with a smile.
DENNY
After starting Pure Luck with Sara, they worked together to build Pure Luck into a respectable farm that could also support the family. Denny brought his years of landscaping and nursery experience as well as a love of sales to the endeavor. Not only did he cover Pure Luck's customer relations, including deliveries, but he also attended speaking events and seminars. For 15 years, Denny was the very friendly face of Pure Luck at the Westlake Farmer's Market. If Denny missed a market, many customers would wait to buy cheese until Denny returned the next week, rather than buy from whoever was subbing for him!
Now, Denny is moving toward another dream. He has achieved a lofty long term goal: He's an author! For more information go to the publisher's web site at www.javelinabooks.com or e-mail sales@javelinabooks.com to order a signed copy from Denniger Bolton. His books are also on Amazon.
Denny has retired from farm work, but not from farm life. He lives in the family home where all the girls grew up. He enjoys the cicadas in the summer, and the ice storms in the winter. If you stopped by, you might find him and Nevada, the Catahoula, catching a rosemary breeze blowing up off of the field…