THE HEART & SOUL OF PURE LUCK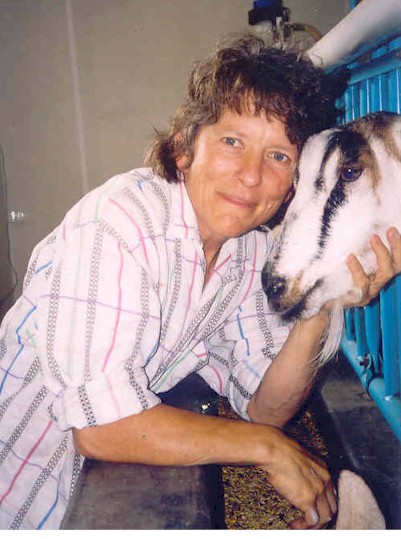 In memory of the heart and soul of Pure Luck
Sara Gold Sweetser Bolton, 52, passed away at her home in Dripping Springs , Texas on November 9th, 2005 , surrounded by her family and friends. Sara was raised in California and spent the last 30 years in Texas laughing with and loving all those who came into contact with her.
She valued her friendships and her family above all. She loved a challenge. She was a practical joker, a cut-throat Scrabble player, and had a mischievous smile. Her children inherited her love of music, her wonder of nature and her sense of humor.
Sara's love for her goats, passion for the land and adventuresome spirit led her to found Pure Luck Farm and Dairy with her husband and partner Denny. She was a dynamo, who, when it came to her cheeses, was uncompromising about quality and enjoyed sharing her knowledge with others. She was a highly regarded cheese maker and taught cheese making workshops with her daughter, Amelia. Sara was hired by the USDA to teach cheese making in Armenia and Pure Luck cheeses have earned many medals and ribbons in National competitions. Pure Luck was one of the first farms in Texas to be Certified Organic.
She leaves behind her husband Denny, her daughters Gitana, Amelia, Claire and Hope, her grandson Will, her son-in-law Jonathan, her husband's son Barry and his children Emily and Joseph, her sister Alison, her brother James and her aunts Elizabeth and Susan as well as all her cousins.
There was a Memorial Service for Sara at on Sunday, November 27th, 2005 at her home in Dripping Springs. Over 300 friends and relations attended.
In lieu of donations, she requested that tax-deductible donations be made to the Heifer Project. Please go to www.heifer.org and click on the "Gift Registry" on the right side of the page. Then fill in "Sara Bolton" and click "Find" and then go to bottom of page and click "View" check Sara's name and click "Goats" and you can make your donation to a worthy family in a Third World country.
We family and friends will miss Sara greatly and ask guidance as we try to walk in her footsteps.