Last weekend was the annual conference and competition for the American Cheese Society.  It was held in Burlington, VT and brought in about 800 attendees.  Over 200 companies participated in the cheese competition with a total of 1,208 cheeses submitted.
Amelia and I attended the conference.  It is a really great thing to get to meet the people we deal with over the phone on a day to day basis, and also the other attendees who can all help us learn more about the cheese world.
 And…every once in a while we meet a fan.  Here's Amelia signing The Atlas of American Artisan Cheese by Jeffrey Roberts, where Pure Luck is featured on page 302.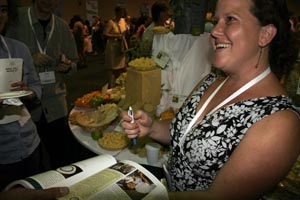 Check out the awards we won at the competition here!